India's solar powered future clashes with local life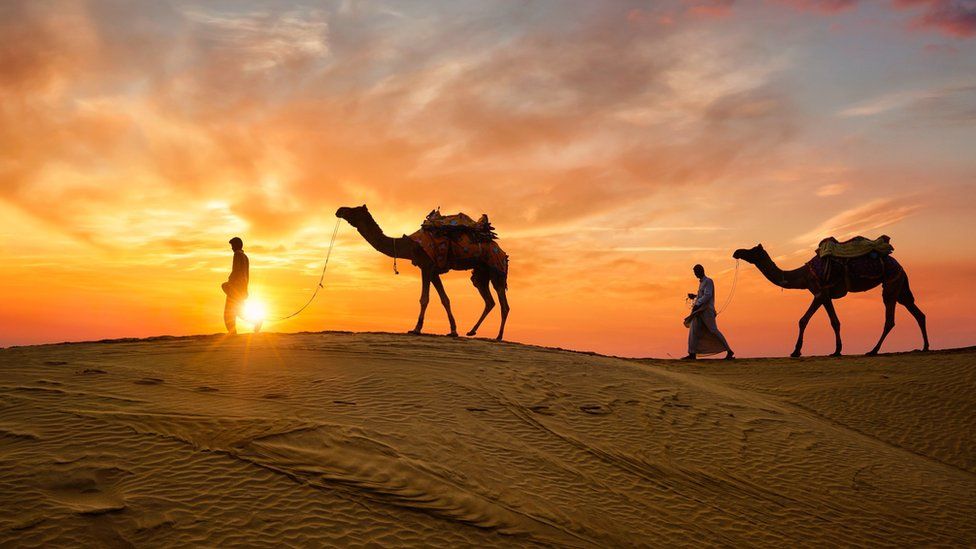 Image source, Getty Images
Image caption,
The deserts of western Rajasthan are an unforgiving place
"Bhadla is almost unliveable," says TS Keshav Prasad, the chief executive of energy company IF&FS.
"巴德拉几乎无人居住," IF&FS 能源公司的总裁 TS Keshav Prasad 说到。
He is talking about part of the Thar desert located in Rajasthan in the northwest of India.
他对这片位于印度西北拉贾斯坦邦的,名为塔尔的沙漠如此描述到。
Temperatures there typically range between 46C and 48C and frequent sandstorms add to the inhospitable conditions.
沙漠的温度一般位于 46C 到 48C 之间,经常发生的沙尘暴,使得那里更难居住。
But what makes Bhadla an unforgiving place to live, also makes it an ideal place to generate solar power.
尽管巴德拉对人无情,但却是一个太阳能发电的理想地点。
Thanks to the abundant sunshine, Bhadla is home to the world's biggest solar power farm, in part built and operated by Mr Prasad's IF&FS.
得益于巴德拉充沛的阳光,Prasad 先生的 IF&FS 公司在那里建造和运营着世界上最大的太阳能发电场。
Soaking up the sunshine are 10 million solar panels with the capacity to generate 2245MW, enough to power four and a half million households.
吸收阳光的 1 千万个太阳能板足以产生 2245MW 的电能,这些电力足够四百五十万户家庭使用。
While keeping the solar panels clean in such a sandy and dusty environment is a challenge, Mr Prasad says running such a vast solar plant is still much simpler than operating almost any other kind of power station.
在多沙多尘的环境下保持太阳能板的清洁是一个难题,但 Prasad 先生仍认为运营这样一个广阔的太阳能发电站比其他种类发电站更简单。
"There is not much equipment involved. Solar panels, cables, inverters and transformers are almost all that are needed to run a plant," he says.
"发电站的组成并不复杂。太阳能板、电线、逆变器、变压器就几乎足以构建一个太阳能发电场。"他说到。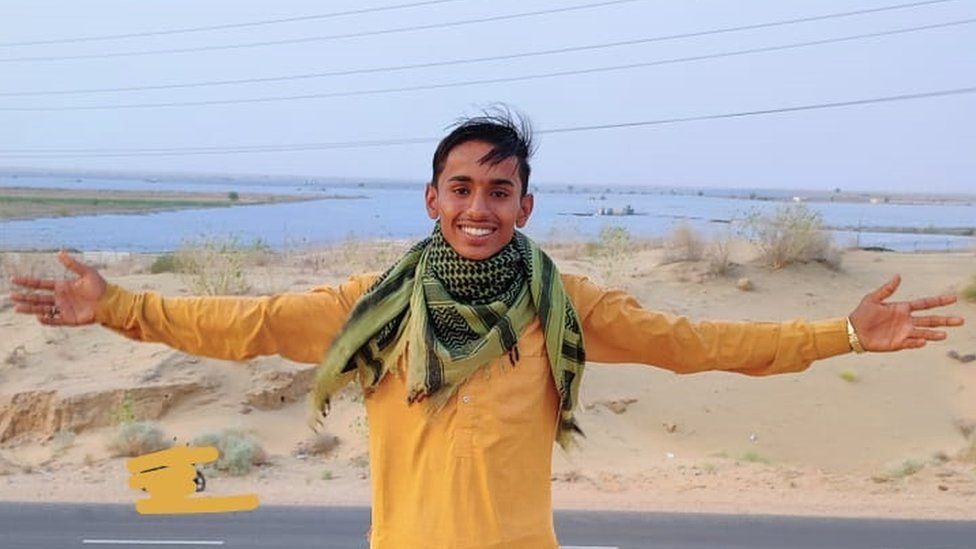 Image source, Mukhtiyar Ali
Image caption,
Bhadla Solar plant has bought new opprotunities says Mukhtiyar Ali
"巴德拉的太阳能发电场带来了机遇。"Mukhtiyar Ali 说到。
The plant, which was completed in 2018, has bought investment and opportunities to one of India's most remote regions.
这座太阳能发电场在2018年建成后,为这个印度最偏远的地区带来了投资和工作机会。
"Most of boys in my village did not study much. They were not ambitious, as our life was limited to the village, and our parents are farmers or into breeding cattle. But since the construction of the park, I realised the world is much bigger than my village," says 18-year-old Mukhtiyar Ali.
"在我所在的村庄里,大部分男孩都没有受到太多的教育。他们的生活被限制在村落中,父母也大多是农民或者是养牛的牧民,因此缺乏抱负。但是在电站园区开工后,我才意识到世界远比我的村庄更为辽阔。" Mukhiyar Ali说到,他此时正值18岁。
"Because of Bhadla Park many engineers, officers and educated people visit our villages, which has changed my perspective towards life.
"工程师、职员,许多受过教育的人在 Bhadla 太阳能发电场建成后造访了我的村庄,他们的来访改变了我对生活的态度。
"I want to be an officer [in the solar park] who has authority, respect, someone who can to bring change in other people's lives," he says.
我想成为太阳能电站园区内的一位职员,收获权利和尊敬,成为一位能改变别人生活的人。"他说到。
But not everyone is thrilled about the giant solar park that has been built on their doorstep.
但是不是每一个人都对建在自己家门口的太阳能电站园区感到兴奋的。
Most of the 14,000 acres used for the park were owned by the state, but it was also where local farmers grazed their cattle.
电站园区占用的 14000 英亩的土地归国家所有,但它们同时也是当地农民放牧的地方。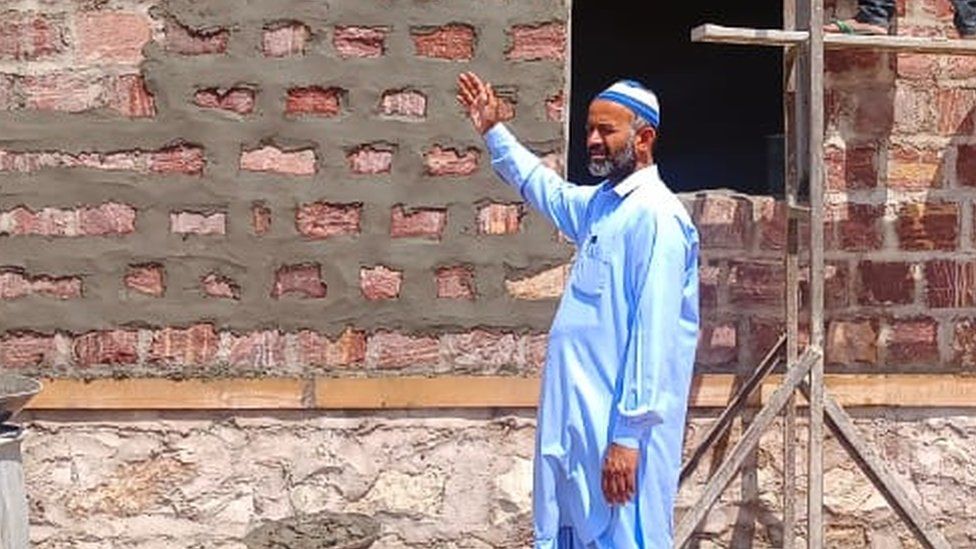 Image source, Sadar Khan
Image caption,
Sadar Khan, the head of Bhadla village, says locals have not seen the benefit of the massive solar farm on their doorstep
巴德拉村的村长, Sadar Khan 指出:"当地人并没有从建造在他们家门口的发电站身上获得好处。"
"Most of our livelihood was cattle rearing," says Sadar Khan, the head of Bhadla village.
"村庄的生计依赖放牧,"Sadar Khan 说到。
"Because all the government lands have been taken back, we don't have enough land for cattle grazing. We are left with few animals," he says.
"但是所有政府用地都被收回了,我们缺乏足够的土地用来放牧。我们仅剩下几头牲畜。"他说到。
He accepts that jobs have been created by the park, but says many of those jobs do not pay enough to survive on.
他同意发电站带来了许多岗位,但同时认为那些岗位并不能为他们提供足以维持生计的薪水。
"There are not many solar jobs for locals except labourers, as most of us are uneducated."
"当地人没有接受过教育,所以除了做苦工并没有其他岗位选择。"
Mr Khan also complains that many locals still have no electricity connection.
Khan 同时也抱怨到仍然有许多当地人没有用上电。
"We produce electricity, but still a number of villages in the nearby area are without electricity. So it's good we are the largest solar park - but it should bring changes in our life."
"电站发了很多电,但是许多附近的村庄仍然无法用上电。我们坐靠太阳能发电场是一件很好的事,但它却没有给我们的生活带来应有的改变。"
Anil Dhaka, the managing director of Rajasthan Renewable Energy Corporation, disputes Mr Khan's complaints. His state-owned organisation oversees renewable energy projects in Rajasthan.
拉贾斯坦可再生能源公司的总经理 Anil Dhaka 反驳了 Khan 的抱怨。他的国有机构负责监督拉贾斯坦的可再生能源项目。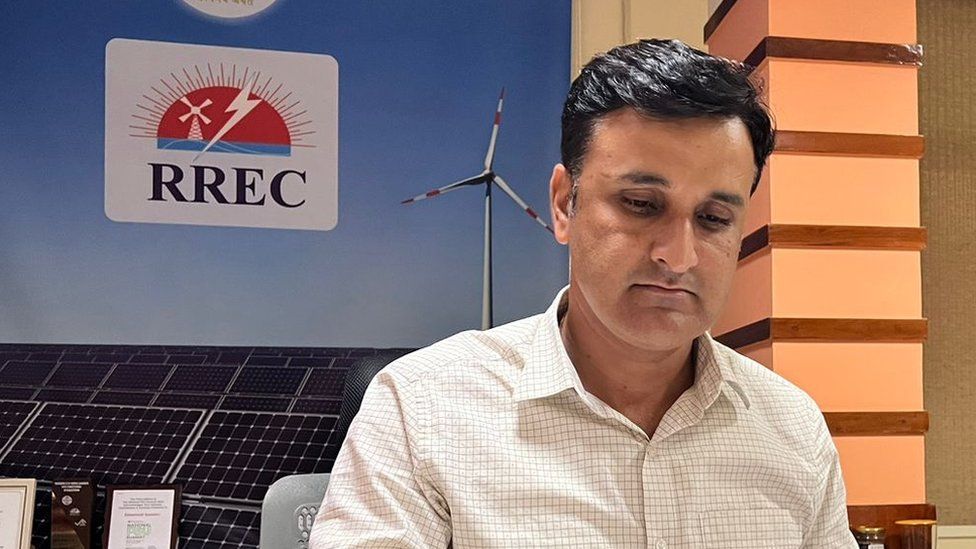 Image source, RRECL
Image caption,
Anil Dhaka says big projects like Bhadla are briging down the cost of renewable energy
Anil Dhaka 说类似于巴德拉太阳能发电场的项目们降低了可再生能源的成本。
"As far as Bhadla Park is concerned we have not received any official grievance or complaints regarding land compensation. The land used in Bhadla park was government land," he says.
"在巴德拉发电场项目上,我们没有收到任何关于土地补偿的官方申诉或投诉。巴德拉发电场占用的是国有土地,"他说到。
Mr Dhaka adds that investments in solar projects in western Rajasthan have caused land prices and rents to rise, so many smallholders have benefitted.
Dhaka 补充到,拉贾斯坦邦西部的太阳能项目带来的投资使土地价格和租金上涨,这使那些小规模土地所有者受益。
He also explains that the issue of electricity connections is not a simple one. The electricity generated by the Bhadla solar plant is at a high voltage, so cannot be directly supplied to local villages.
他同时解释到,电力链接问题不是能简单解决的。巴德拉太阳能发电场生产的是高压电,并不能直接供应到当地的村庄。
But he points out that plants like Bhadla are significantly lowering the cost of electricity from renewable sources.
但他指出像巴德拉电场的太阳能发电场正在不断降低可再生能源发电的成本。
Around 75% of India's electricity
is generated by burning coal
, but by 2030 the government wants 40% of electricity to come from renewable sources like solar.
75%的印度电力来源于烧煤,但政府计划到2030年全国40%的电力来源于可再生能源,例如太阳能。
That is going to require a lot of land.


If India was to put in place a target to be net-zero emissions by the middle of this century, then it would have to cover between 1.7% and 2.5% of the country's total landmass with solar panels,
according to a study last year
by the Institute for Energy Economics and Financial Analysis (IEEFA).
如果印度想要在本世纪中达成零排放(碳中和?)目标,那么根据 IEEFA 在去年所做的一项研究,印度需要铺设相当于国土面积1.7%到2.5%的太阳能板。
Currently 34 big solar projects are at various stages of development, so more conflict over their location is likely, experts say.
专家说,目前的34个大型太阳能发电站项目都处于不同的建造阶段,所以可以预见会有更多的冲突出现在项目的所在地上。
"A massive shift to renewable energy requires enormous resources, and land is a crucial one," says Bhargavi S Rao, a senior fellow at the Environmental Support Group.
环境支持集团的高级会员 Bhargavi S Rao 说:"向可再生能源的大规模转变需要集中巨大的资源,而土地是关键之一,"
"Rain-fed and irrigated lands are being identified as dry land, drought prone wasteland, non-productive land and so on, all to ensure such lands can be made available for the land guzzling utility scale renewable energy projects, especially solar and wind," says Mr Rao.
Rao 说:"有许多雨水充沛的土地也被视作旱地、易干旱土地、荒地等等。这都是为了确保耗费大量土地的可再生能源项目有足够的土地使用,尤其是太阳能和风能项目,"
"The prevailing model of promoting mega-energy projects that are land intensive is creating an anomalous situation wherein farmers, in certain regions of interest to energy developers, are being surrounded by powerful real estate developers, and also state-led instruments, to compel them to lease and even sell their land," he adds.
"这种意欲推广大型能源项目的风气正在不断地对农民们制造不正常的情况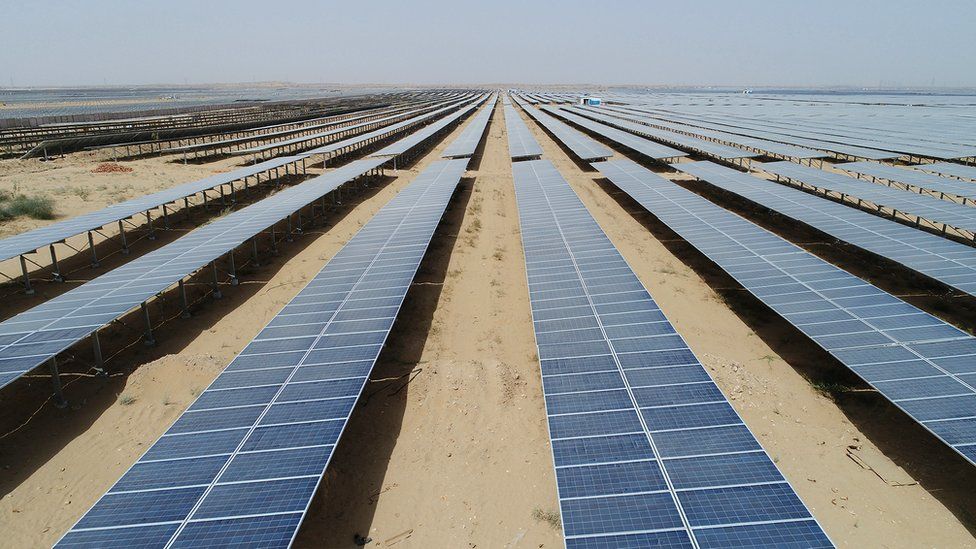 Image source, ILFS
Image caption,
Mr Rao says, so far, the problem is "sporadic" as the shift to renewal energy is at an early stage. But given the scale of planned developments the situation is going to get worse.
"By 2030 farmers will be under severe pressure to part with their lands. This is going to be especially problematic for small and marginal farmers, who form a majority of the farming community."
Rao 说,目前为止向可再生能源的转变还处于早期,所以问题还算轻微,但考虑到计划中的规模,情况只会越来越糟。
"到2030年,农民将面临迫使其放弃土地的严重压力,这对占农业社区大多数的小农和边缘农民来说,将是一个严峻的问题。"
When contacted by the BBC, the government did not want to respond to Mr Rao's claims.
当 BBC 联系政府时,政府拒绝对 Rao 的称述作出回应。
But back in Bhadla, Mr Prasad, the man in charge of Rajasthan's renewable energy projects insists the giant solar plant there has been good for the local community.
但在巴德拉,负责拉贾斯坦邦的 Prasad 先生坚持认为,那里的大型太阳能发电项目对当地社区有好处。
"There are around 60 villages around the solar park that have benefited - jobs have been created, schools have been constructed.
"太阳能发电场为周围60余座村庄带来好处——创造工作岗位,建造学校。
"There were no medical facilities but now mobile medical vans visit villages, so this is not all about green energy - it's also the progress of the people."
"以前那里没有医疗设施,但现在流动医疗车会到访村庄,所以这个项目不仅是为绿色能源做出贡献,也为人民更好的生活做出了贡献。"
> 本文由简悦 SimpRead 转码
译者后记:
如果说文学翻译是译神,那么新闻翻译就是译实。两者之间并没有谁难谁易的说法,普通人的灵机一动也能为一段文学翻译画龙点睛,机器也能对着新闻照实翻译。但好的翻译总是经得起时间打磨的,这要求译者自身先进行不断的磨炼。
作者:小憩的魔女
声明:本文采用 CC BY-NC-SA 4.0 许可协议,转载请注明出处。